EVM
Training: Cloud
Based
File
Downloads
Please Note: This feature is ONLY available to clients who have purchased our premium Cloud Based File Downloads add-on.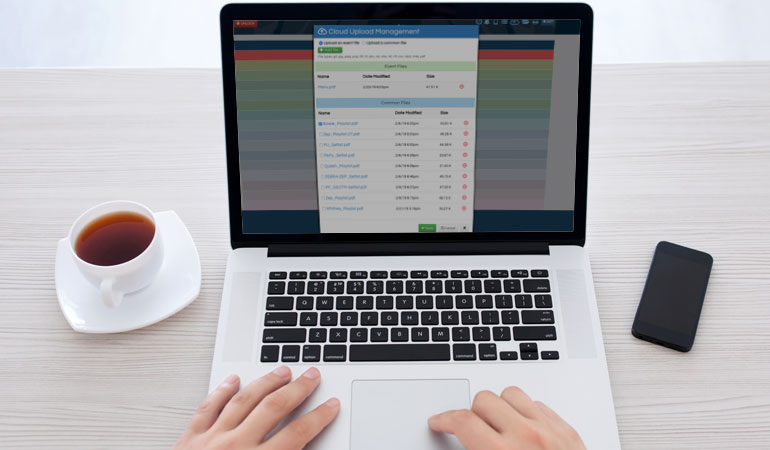 Our premium add-on, Cloud Based File Downloads makes it easy to share files with members of your team. There can be times when you find that some event data is better shared in a document format. Maybe you need to provide musicians with a set list, or your lighting director needs to provide a lighting plot for workers at a venue. There are many reasons why making a document available just makes sense. A document can be printed and handed out for note taking and documents are disposable (unlike your mobile phone) so they are good resources to have for the right occasion or use case.

If you see a need for a particular document in your events planning and execution you will need to contact your EVM Admin representative or your event manager because uploading of documents is a task that requires Admin privileges. A document can be designated for a specific event or it can be used across multiple events - even ALL events. You will need to consider this before contacting your Admin so they can know if the document needs to be added to a single event or to be added to the "Common Files" library.

To download a file in an event look for the download icon in the upper right of your event screen (down-arrow with an underline). Clicking the icon triggers a popup that will list available files for download and then clicking on the filename allows you to download the file.

Most common document types are supported in the EVM (gif, jpg, jpeg, png, tiff, tif, doc, docx, xls, xlxs, txt, rtf, csv, mp3, pdf, mus, musx) but others can be turned on if you request them from your EVM Live contact. We also have a file size limit of 2MB per file but this can be changed with a possible additional charge. Just let us know.