Cloud
Based
File
Downloads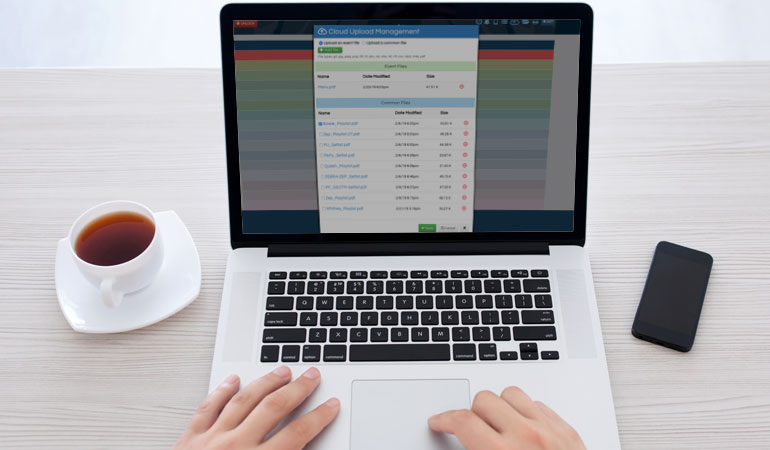 Need to provide documents or files for an event? Upload files by event or assign them from your library. (NOTE: optional service)
 In spite of how efficient you may be with representing data in EVM Live, you may find that some data is just better to hand off in a document form. Maybe you need to provide musicians with a set list, or lighting needs to provide a lighting plot for workers at a venue. There are many reasons why making a document available just makes sense. A document can be printed and handed out for note taking and documents are disposable (unlike your mobile phone) so they are good resources to have for the right occasion.
EVM Live lets you offer documents for each of your events. Your viewers can simply click the Downloads button and a popup will allow them to download any documents they may need. Of course, if you don't have any documents they will see that right away. Different documents can be uploaded for each event so there is no clutter of showing documents from other events that are not needed for the current event. But what if you have a document that you will want to provide for ALL of your events. There is no need to upload the same document each time you create an event. You can add that sort of document to the "Common Files" library - one time only. Then on subsequent events you simply check it off as available for that event and there it is. Easy, huh? 
Most common document types are allowed (gif, jpg, jpeg, png, tiff, tif, doc, docx, xls, xlxs, txt, rtf, csv, mp3, pdf, mus, musx) but others can be turned on if you contact us. We also have a file size limit of 2MB per file but this can be adjusted with a possible additional charge. Just let us know. Also, please be aware that File Storage is an option that can be added to your EVM Live account - just ask us when you sign up.
If you want to learn about other EVM Live features please click the button below.